Maps reveal procession route for Queen's coffin and Lying-in-state queue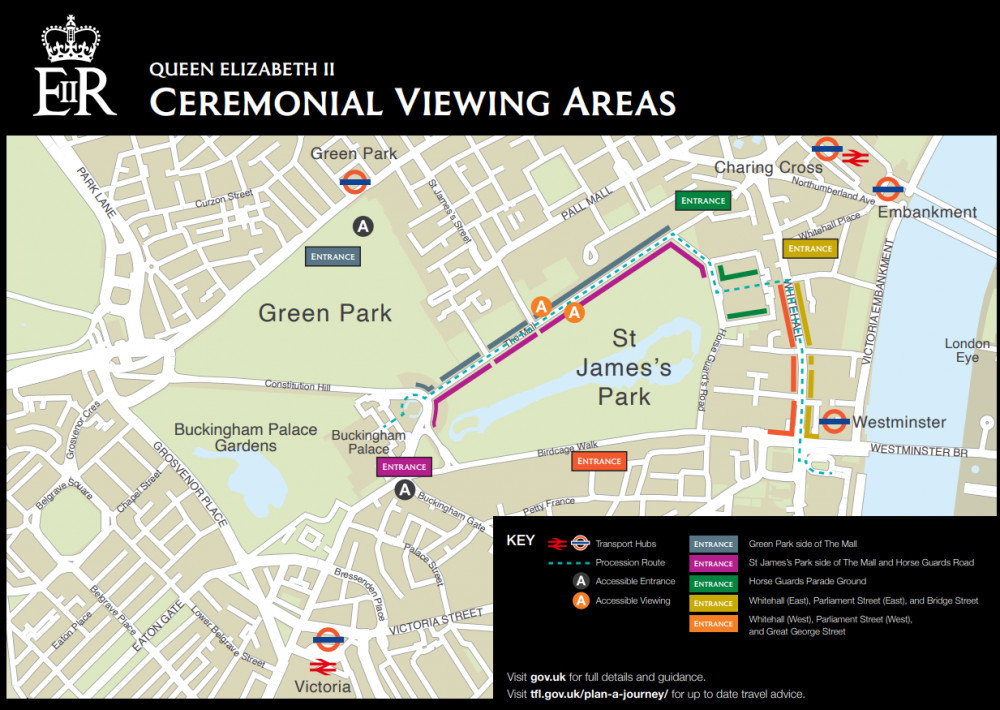 Key details have been published for visitors travelling to central London today – Wednesday - for the procession of the Queen's coffin to Westminster.
The coffin will proceed from Buckingham Palace down the Mall and will be followed on foot by members of the Royal Family, including King Charles, Prince William and Prince Harry.
The procession will start at Buckingham Palace at 2:22pm.
It will proceed along The Mall, Horse Guards Road, across Horse Guards Parade and onto Whitehall to Parliament Square and into the Palace of Westminster.
The viewing areas will open from 11am. Capacity will be limited and people will be admitted in order of arrival time.
There will be dedicated areas for people with accessibility requirements at the Green Park side of The Mall, and the St James's Park side of The Mall.
Hundreds of thousands of people are expected and contingency plans have been drawn up to direct people to a live screening even of the procession in Hyde Park.
Details of the recommended Tube stations to use to reach the best viewing points have been published at this link -
https://www.gov.uk/government/publications/attending-ceremonial-events-for-the-lying-in-state-and-the-state-funeral-of-her-majesty-the-queen/procession-for-the-lying-in-state-of-her-majesty-the-queen
Separately, details of the queue to view the coffin during the Lying-in-State period, which begins later today, are now available.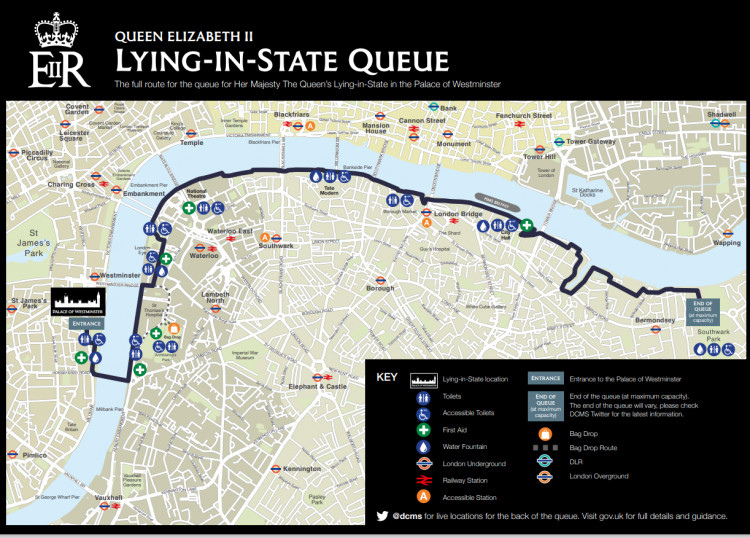 The queue will start where Albert Embankment meets Lambeth Bridge in central London, on the south side of the River Thames. From Albert Embankment, the queue will continue along the south bank of the Thames.
Her Majesty The Queen's Lying-in-State at the Palace of Westminster opens to the public at 5pm. It will be open 24 hours a day until it closes at 6.30am on Monday.
Large crowds are expected, and there are likely to be delays on public transport and road closures around the area.
The official advice states: "When you reach the back of the queue, you will be given a coloured and numbered wristband. This is a record of when you joined the queue, however please note that having a wristband does not guarantee your entry to the Lying-in-State.
"Wristbands are specific to each person joining the queue, and are strictly non-transferable. You must keep this wristband on at all times as it will be checked along the route.
"Your wristband also allows you to leave the queue for a short period to use a toilet or get refreshments, then return to your place in the queue. Public toilets, drinking water and first aid stations are available at designated locations along the queue route."
Visitors will go through airport-style security at Westminster Hall and there are tight restrictions on what people can take in. Only small bags are permitted.
Details on the queue route and rules can be found here -
https://www.gov.uk/government/publications/attending-ceremonial-events-for-the-lying-in-state-and-the-state-funeral-of-her-majesty-the-queen/her-majesty-the-queens-lying-in-state-at-the-palace-of-westminster-houses-of-parliament
New tooting Jobs Section Launched!!
Vacancies updated hourly!!
Click here: tooting jobs